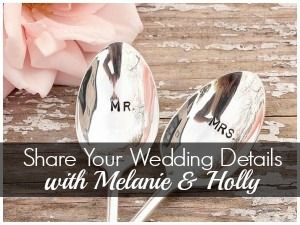 I thought it would be fun to share my wedding day now that it has almost been 3 years. Tim and I got married on August 8, 2010 after being engaged almost 3 months. After we got engaged we were ready to get married. So no stopping us! I have always wanted an outdoor summer wedding, so we picked a date in August and we were off. I decided to keep costs down by DIYing almost the whole wedding. I made my own invitations, programs, treat bags for the candy buffet  decorations and even the handkerchief my husband wore in his pocket. 
Location (church/outdoors/destination): 
I knew I wanted an outdoor wedding, so I started looking at venues that were outdoors in beautiful locations. I wanted a very country\shabby chic\vintage feel, so when I found Gale Woods Farms, it was a done deal.  The ceremony was held outside overlooking a beautiful lake and the reception was held in the big barn. 
Colors: 
My colors were Fuchsia, Gray & Yellow. The men wore gray suits with fuchsia ties and gray Conve…