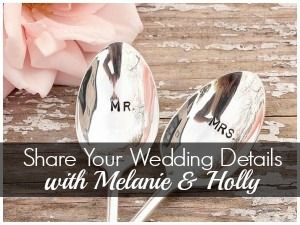 I thought it would be fun to share my wedding day now that it has almost been 3 years. Tim and I got married on August 8, 2010 after being engaged almost 3 months. After we got engaged we were ready to get married. So no stopping us! I have always wanted an outdoor summer wedding, so we picked a date in August and we were off. I decided to keep costs down by DIYing almost the whole wedding. I made my own invitations, programs, treat bags for the candy buffet decorations and even the handkerchief my husband wore in his pocket.
Location (church/outdoors/destination):
I knew I wanted an outdoor wedding, so I started looking at venues that were outdoors in beautiful locations. I wanted a very country\shabby chic\vintage feel, so when I found Gale Woods Farms, it was a done deal. The ceremony was held outside overlooking a beautiful lake and the reception was held in the big barn.
My colors were
Fuchsia
, Gray & Yellow. The men wore gray suits with fuchsia ties and gray Converse Allstar shoes! My bridesmaids wore fuchsia dresses and silver shoes. And my shoes were hot pink awesomeness! And of course all the flowers were pinks\yellows and some gray filler.
My three dearest friends were in my wedding party. They were from all different parts of my life and I wanted each to have a title. My Matron of Honor was my friend Rachel, who I had met 15 years earlier when we were working in New Hampshire. My Maid of Honor was my friend Shannon who I had known since the 4th grade. And my Cousin of Honor was my dear cousin Kelly, who I have known since I was 9 months old. Kelly's husband Kyle also officiated our wedding since he is a
Reverend
\Chaplain and also a great friend! win win!
My husband had two collage buddies and his brother as his best man. And 2 other pals from college as the ushers. My brother Buddy walked down the ring.
I had two other girlfriends of mine do the readings. My friend Liz read, The Prayer of St. Francis and my friend Ellen read I carry your heart.
And the musicians were the choir teacher and orchestra teacher from the school my husband and I both worked at.
We danced to Make you Feel my Love by Adele. It was hot and I barely remember dancing.
We waited 5 months and decided to go to Hawaii in December, when we could really enjoy a warm climate honeymoon since we live in Minnesota and we are always looking to get away from cold! The honeymoon was awesome, but I was 21 weeks pregnant, so it was a very low key time. We sat by the pool and read, ate a lot and did a lot of
snorkeling
. It was perfection!
What would you do different?
I wouldn't do anything differently, except the weather! It turned out to be really HOT!!! It was the hottest day in August in 100 years!! Someone even passed out and I wanted to pass out too. I had a hard time enjoying myself because I was so overheated. I just felt yucky. But everyone said it was one of the best weddings they've been to, so that makes me happy.
DIY programs\fans. They came in very handy! It was blazing hot outside!
Converse All Stars for the dudes
Me and my brother Buddy
The ceremony site. The flowers were purchased the day before at the Farmer's Market.
My amazing husband!
Photo Booth guest book
Stylin in our kicks!